Home

/

WELCH ALLYN CONNEX SPOT MONITOR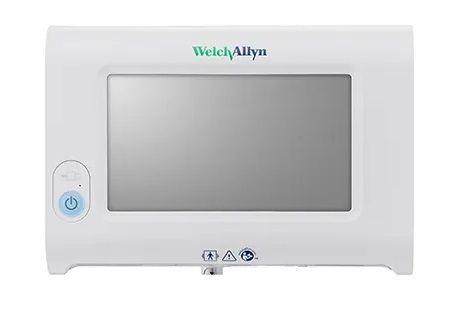 WELCH ALLYN CONNEX SPOT MONITOR
Warranty Information:
2 YEARS
Description
The Connex® Spot Monitor features an easy-to-use, vivid touchscreen display and provides accurate vital signs measurement including blood pressure averaging, digital respiration rate, spot checking, interval monitoring and custom scoring across patient populations. The device connects wirelessly to your EMR and sends vitals to the patient chart from the point of care to help improve efficiency. Its upgradeable design and custom configurations include optional wall unit integration, industry-leading thermometry and pulse oximetry choices, connectivity and other mounting/mobility options. In addition, the Accessory Power Management Stand with WhisperDrive™ technology features additional power backup, providing up to 17 hours of on-time, alleviating the need to charge the monitor as frequently.

Features:
• Measures Non-Invasive Blood Pressure Monitoring (NIBP), Mean Arterial Pressure (MAP) and Pulse Rate with blood pressure averaging
• Features SureBP technology which measures BP during inflation in as little as 15 seconds
• Features Spot Checking or Monitoring Modes
• Features Adult, Paediatric or Neonatal Modes
• Includes Nonin Pulse Oximetry (SpO2)
• Lightweight and portable with a variety of mounting options
• Large, easy-to-read touch-screen display

Includes:
• 1 x Adult FlexiPort cuff
• 1 x Adult Nonin SpO2 fingerprobe
• Rechargeable battery
• Braun PRO6000 tympanic thermometer (WA71WE6 unit only)
Item says it is out of stock, can I still order it? Yes you can still order any item that appears on our website. The item will then be placed on back order, once it arrives into our warehouse, we will ship it out ASAP.
Hardware items? Some hardware items can be customised which is why we don't keep many in our warehouse. If you place an order for one, we will order it in for you and possibly have it shipped directly to you.
Cold chain items must be placed on a separate order from other items as they are shipped separately and have a separate/different freight charge.
This product is a Special Order Item and is non-returnable/refundable. For more information about Special Order Items please view our T&C's on these items here.
Freight will be calculated during checkout. You must list your delivery address as a physical address. We cannot deliver to P.O. boxes etc.

Delivery times (with all items in stock): Sydney/Brisbane/Melbourne: ETA 1-2 business days. All other locations 2-3 business days. Freight times are dependant on courier companies.
Pick up option currently not avaliable due to Covid-19.
Hardware/bulky deliveries: To be organised once purchased.
For more information, review our Shipping and Returns page or our Terms and Conditions page.