Home

/

FINGER PULSE OXIMETER AEON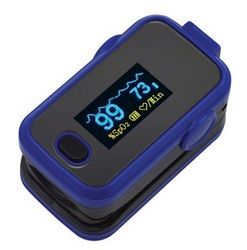 FINGER PULSE OXIMETER AEON
Warranty Information:
1 YEAR
Description
A320 Fingertip Pulse Oximeter, based on all digital technology, is intended for noninvasive spot-check measurement of SpO2 and pulse rate.

Features:
1. Lightweight and Easy-To-Use
2. Color OLED simultaneously displays for testing value and plethysmogram
3. Adjust the parameters in friendly menu
4. Manually adjust the direction of interface
5. Low battery voltage indicator
6. Visual alarm function
7. Automatically switch off while no signal
8. Standard two AAA 1.5V alkaline batteries support more than 30 hours continuous work
9. Advanced DSP algorithm inside decreases the influence of motion artifact and improves accuracy of low perfusion

Specifications:
• Pulse Rate Display: 30-250 bpm
• Power Consumption: < 30 mA (normal)
• Resolution:
• Hemoglobin Saturation (SpO2): 1%; Pulse Rate: 1 bpm
• Measurement Accuracy:
• Hemoglobin Saturation (SpO2): 70% - 90%; 2% unspecified (=70%)
• Pulse Rate: 2 bpm
• Measurement Performance in Low Perfusion Condition: =0.3%
Freight will be calculated during checkout.

Delivery times (with all items in stock): Sydney/Brisbane/Melbourne: ETA 1-2 business days. All other locations 2-3 business days. Freight times are dependant on courier companies.
Hardware/bulky deliveries: To be organised once purchased.