Home

/

EAR TOILET PACKAGE
Special Order
Bulky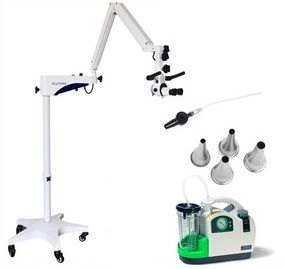 EAR TOILET PACKAGE
Stock Code:
EARTOILETPACK
Stock Level:
Out of Stock
Warranty Information:
12 MONTH PARTS
Description
Ear Toilet Package includes:
• ENT Microscope Alltion YSX101 (Mobile Stand)
• Tongye Suction Unit MC600A
• Suction Tubes 14 Gauge Bent Non-sterile (pack of 100)
• Ear Speculum Gruber (pack of 4)
• Ear Clear Wax Remover 12ml
• Suction Liner

Microscope:
ALLTION is proud to offer YSX series of operation microscopes. Precise structure, modern appearance and LED illumination system. Offering excellent parfocal, large field of view, precise and clear three dimensional images. The YSX series of operation microscopes have optional working distances and magnification and are suitable for numerous departments including ophthaimology, stomatology, gynaecology, ENT and surgery.
• 1500mm Super long pantograph arm offers a wide operation space
• Four difierent working distances: 200mm, 250mm, 300mm, 400mm
• Smooth turret 3-step magnification pod
• Field diameter: 7.88mm-81mm
• Magnification: 2.4X-12X
• Green and blue filter selection
• 10W LED illumination
• 20,000 hours LED lifespan
• 50,000 Lux object illumination
• Power supply voltage: 90V/60HZ-250V/50HZ

Suction Unit:
• High vacuum, high flow, oil free vacuum pump
• Antibacterial filter
• Anti-overflow Protection Device
• Lower noise, stepless vacuum adjustment
• Multi-function Deployment Optional
• AC Power Supply

Cannula:
Stainless steel. SIM Micro Cannula Slow Reaction CH4 70mm BX60. Ear Gruber speculum are used for opening the ear canal for better visualization during cerumen management.
Delivery Times (with all items in stock):
Sydney/Brisbane/Melbourne: 1-2 business days
Hardware / Bulky Deliveries:
To be organised once purchased