Home

/

BREATH ALCOHOL SCREEN DISPOSABLE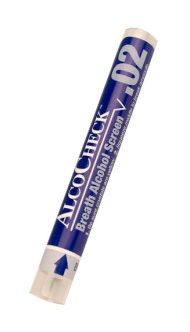 BREATH ALCOHOL SCREEN DISPOSABLE
Description
The AlcoCheck® Breath Alcohol Screen is a semi-quantitative test that approximates blood alcohol concentration (BAC) from exhaled breath.

• Compact, plastic tube construction allows test to be carried anywhere
• Pass/fail design detects alcohol at different threshold levels

The AlcoCheck Breath Alcohol Screen offers users a simple, convenient method to detect alcohol use and to estimate levels of alcohol intoxication. The Breath Alcohol Screen provides semi-quantitative screening of the presence of alcohol, indicating relative blood alcohol concentration (BAC) at 0.02%, 0.05% and 0.08%.

Easy to use breath alcohol device available for over-the-counter use!

To perform a test with the AlcoCheck Breath Alcohol Screen the user squeezes the tube to crush the ampoule and then blows into the end of the tube for 12 seconds.
Compare the colour of the majority of crystals in the device to the colour blocks on the label. The top two colour blocks indicate a positive result at and above the device cutoff level. The bottom two colour blocks — with the majority of crystals yellow, light yellow, or light green — indicate negative results.
Delivery Times (with all items in stock):
Sydney/Brisbane/Melbourne: 1-2 business days
Hardware / Bulky Deliveries:
To be organised once purchased